Midatlantic Professional Services has been serving the needs of businesses, both large and small, for just over a decade. We engage in design, implementation, and support of network infrastructure solutions. Midatlantic offers network security solutions; IT consulting services; network design and installation, equipment leasing and support packages.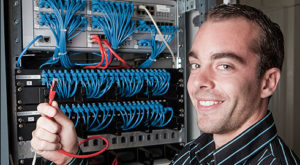 Mission statement
To provide business owners assurance concerning their Information Technology and to enable greater productivity for all employees. Midatlantic has been able to accomplish this by focusing on each clients specific needs and formulating a Integrated IT plan that helps our customesr achieve their business objectives.
The company principal began building IT systems for friends and family, and after extensive Microsoft Training, entered under the tutelage of a advanced Microsoft engineer, Bryan began to expand in the world of Enterprise Networking systems. Designing, administering and installing Long Island's HOME HEALTH NETWORKS brought Bryan to managing field service and in house tech support as well as engineering in house solutions for over 100 employees. It was at this time that through fate that Starchem Labs entered the picture. A start up Fitness Science company that needed a complete technology solution.
Starchem labs explained their need for a database and network structure that would facilitate growth with no downtime. Bryan through entrepreneurial aspiration, accepted the challenge and created an advanced system that enabled Starchem Labs to not only grow exponentially, but created a powerful online presence and functionality for them as well. Starchem was thrilled with the results, and spread the word. Bryan then decided that the had an opportunity to help many other businesses facing the same challenge, and Midatlantic Professional Services was born. The first challenge was creating a powerful infrastructure of their own. Within a year, the staff at Midatlantic Professional Services grew in number of professionals committed to delivering unparalleled service.