MPSTech - Let Us Enhance Your Existing VoIP Communication Network
Business VoIP Phone Service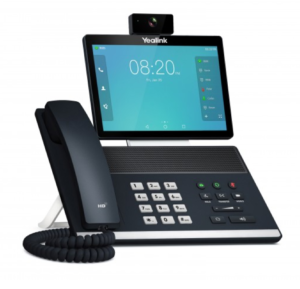 Voice Over IP (VoIP) Service is a phone service using Voice over IP to transport calls over public or private IP networks. VoIP business phone service is used to provide local and long distance voice service, as well as applications such as conferencing and fax. A business VoIP phone service provides increased efficiency by utilizing IP network access for calls, instead of a separate connection. This eliminates the need and cost of a traditional T1 phone service or regular phone lines, with the ability to scale service needs quickly.
VoIP for business also has the same benefits and features as a traditional phones service, as well as advanced calling features, auto attendant, direct inward dialing (DID), and more. Many business VoIP providers now offer application integration, collaboration, mobility, social media, and messaging features. This can help to streamline communication and interaction with employees as well as customers.
Another feature of a business VoIP phone service is the ability to use a cloud based phone system, which allows you to outsource your phone system management. All the features, functionality, and technology upgrades of the phone system are managed by the business VoIP provider, ensuring you're always up to date with technology. Most business VoIP pricing is also very competitive and can be a good way to reduce overall telecom costs. Business VoIP Service is also known as SIP Trunking, Cloud Phone System, Hosted PBX, Cloud PBX, Cloud Contact Center or Unified Communication.
At MPSTech we will:
Study the existing business phone systems of the client and design the best VoIP service system to enable smooth transition to VoIP
Implement hosted VoIP or customized on-the-premise cloud system. The former is when the cloud system is located at the provider's place and the latter is when the system is present on the office premises of the client. It involves higher initial investment and technical expertise, but is one the most efficient systems helping businesses perform optimally.
Make suggestions on your Network infrastructure, technology workflow and Disaster Recovery options.
Features & Benefits of VOIP for Business
Advanced Calling Features
Application & Mobile Integration
Combines Voice and Data Networks
Low Cost Phone Service
Cloud Phone System Management
Very Flexible & Scalable Capacity
Business VOIP Applications
Local & Long Distance Voice Service
Audio & Video Conferencing
Traditional Phone Service Replacement
Connecting Remote Users
Unified Communications
As a premier VoIP service provider in the country, MPS Tech believes in the hand holding process through the entire transition process, from the beginning till the end. With growing awareness amongst clients to use modernized processes and systems like state-of-the-art business phone systems, we at MPS Tech follow dedicated designing and implementation of advanced VoIP technology enabled communication network in the most optimized manner.